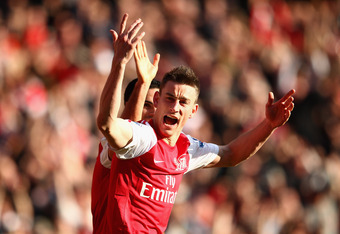 A run of seven wins has propelled us to third in the league. Despite a loss at Loftus Road (taking nothing away from QPR: they wanted it more and deserved the points)we sit in third at close of business this weekend. Not JOINT Third; Third. When Arsenal won the League in 1989 we weren't joint winners we were winners, so let's not get into talking in terms of 'joint third' or 'third on goal difference'.
We are still third.
OK that's clear, yeah?
The long term future is about the 2012/13 season and the forthcoming summer, the short term is about securing a Champions League spot. While it would be nice to finish above a certain team from Middlesex our priority has to be securing that ECL spot. To this end the next game is ideal; a big game against a good team at our place. An opportunity to rise to the occasion and get back on track.
Let's face it, if, after we play City, we are looking at our form being WWWWWWWLW we would all be quite happy I would have thought. I have a sneaky feeling, based on Mancini's tactics in the corresponding fixture last season, that a draw may be the result.
Our remaining fixtures are OK; Wigan (who may have gone down)at home, Norwich (comfortable in mid table) at home, Wolves (also, possibly relegated) away, and Mid table Stoke away. The key fixture may well be Chelsea at home. CFC may have the distractions of the FA Cup and Champions league on their minds when they come visiting; or alternatively players wanting to secure their selection, so who knows. Having said all that, the final fixture against WBA may actually be decisive.
What is clear is that the future is in our own hands and we have created our position on the back of hard work and character. Given that we have lost 9 games this season our current position is remarkable; for example Liverpool, who have lost 11 games are 16 points behind us (albeit they have a trophy).
The chase for ECL qualification is now a contest between Newcastle, Chelsea, Sp*rs and Arsenal so rather than looking around us we need to focus on what we have to do, get another run going and cross that line.
Keep on running