I recently bemoaned a lack of characters in our current Arsenal squad, lack of players that bought a sense of fun and identity. One such player was Freddie Ljungberg. From his debut against Manchester United when he came on as a sub, he managed to get booked, have a shot that flew high wide and handsome and then chip Schmeicel to make it 3-0; what a debut. Freddie was a constant thorn in Manchester United's side scoring many a goal against them. When Freddie got sent off in a bad tempered game at WHL he flicked the Vs and booted his way down the tunnel; this made him a legend.
His Red haired goal scoring exploits that led us to a double and memorable capture of the title at Old Trafford. His post match swearing after the FA Cup win against Chelsea. His tussle in training for Sweden. His crazy fashion sense and his willingness to have a tear up on the pitch. All these things were what we loved about Freddie. That's why he had one of the greatest terrace songs ever; 'we love you Freddie, because you've got red hair…'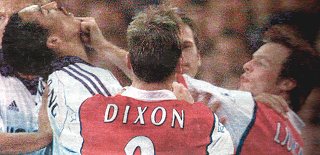 Freddie popped up with crucial goals, he gave assists and he got stuck in he had a great engine and gave his all.
That's what's missing; more Freddie's. You need players like him, not just a good player as evidenced by his contributions in hostile territory like WHL, Old Trafford and Anfield, but a player who loved playing for the Arsenal. The great Arsenal side he played in was an amalgamation of many things and Freddie was a key ingredient.