Not only wrong but wrong!
The ridiculous headlines about 'dark days for English football' following the Manchester clubs relegation to Channel 5 do a diservice to Napoli and Basel who progressed to qualification into the knock out stages of the Champions League. City and United now join Stoke, and possibly Fulham, Birmingham and Sp*rs in the Europa League and there will be no tears shed in the red half of North London, that's for sure.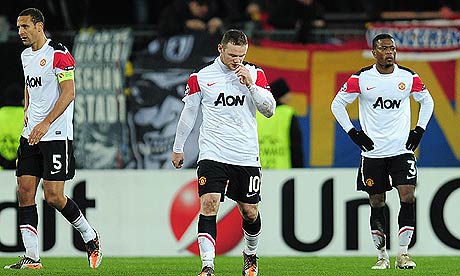 Again, the feeling of entitlement associated with the Premier League has meant that City/United are being touted as favourites; on what basis I don't know. Anderlecht have maximum points in the tournament and PSV, Schalke, Athletic Bilbao, PAOK, Braga and Athletico Madrid are by no means a soft touch, so let's drop the arrogance please UK media.
The remaining teams in the Champions League are (first the group winners)
Arsenal
Barcelona
Bayern Munchen
Benfica
Chelsea
Inter Milan
Real Madrid
Which means Arsenal can draw one of the following runners up (*not Marseille)
Basle
Bayer Leverkusen
CSKA Moscow
Lyon
Napoli
Zenit St Petersburg
*

Marseille
The draw to take place on 16/12/11, which should be interesting. I'm guessing that EUFA's darlings, Barcelona, will get what will probably be percieved as a , shall we say, easier draw, While we will get a long journey East. Whatever the case it's good to be going into the new year still in the mix. Who knows how far we can go in a new year that promises to see some valuable assests, in the shape of Wilshere and Sagna, return, and promising youngsters in Gibbs and Jenkinson coming back.
I could touch on the ludicrous bias exhibited towards the Manchester clubs in the lead up to the game, or Samir Nasri's regular Thursday engagements. I could mention the fact that money can't buy anything and that Arsenal's achievement in qualifying from the toughest group of all the English clubs with a game in hand, but I won't. All of this and more was said last night; the humour that was knocking about was both articulate and childish but was very very funny.
So it's onwards and upwards for The Arsenal. Saturday's special day awaits.