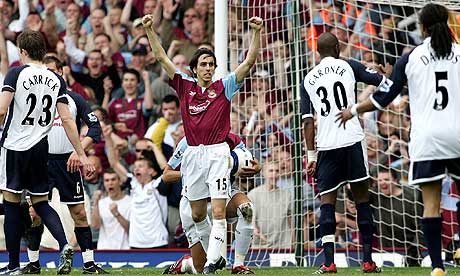 who will be having a laugh?
You get the feeling that all matters at the top of the table will remain unresolved until next weekend. United and City should go to the last day and the fate of The Arsenal, Sp*rs and Newcastle may be the same; Newcastle and Man City is the key game for a number of reasons, and Chelsea could need to put all their eggs in the Champion's League final basket. It's tight at the top alright.
This afternoon's game at home to Norwich,the last at home this season, is a must win scenario. Given Villa's awful form you would have to think Sp*rs will get three points tomorrow thereby setting up a last day of some tension. Almost a mirror image of the final day at Highbury when we faced Wigan and Sp*rs, despite a predictable Sheringham missed penalty, succumbed to a dodgy Lasagne, and a goal from Yossi at Upton Park. Newcastle are buoyant but their game against City may burst their bubble.
The race for third is so tight and there are so many variables that all we should focus on are these simple facts. Win both remaining games and we finish a strange season in third place; The best of the rest if you like.
And it has been a strange season, a summer of indecision, disaster at Old Trafford, talk of black bin bags, 'mind the gap' t-shirts and tiny stadium banners. Elsewhere it's been a season of contention; racism and abuse, Social Networks and the law, Tragedy and triumph and all manner of poor refereeing decisions.
For many, myself included, it's about getting to the end of the season in third (which seemed unlikely back in October) and rebuilding for next season. I feel that the 2011-12 season will be reflected upon as the season when The Arsenal as a club probably opened it's eyes , for the most part, gathered it's senses and looked towards the future with a more realistic view on what is required to get back in the big time. I hope so anyway.
For now it's three points pure and simple. That's today's raison d'etre and it should be the same next weekend.