Well I don't know about you but it feels like the season is starting properly this weekend, thanks to the unwanted International break. All the clubs have the squads that they must rely upon until January now that the interminable transfer window has slammed shut and we have added four players to the ranks. Two of whom are unknown quantities, one a former employee who, judging by his cameo in the NLD has much to give and, of course, that rarity in this league: a genuinely world class player.
Courtesy: thebottomcorner.com
We restart the season with six points and qualification to the group stage of the Champions League secured so in that sense it's been a pretty good three weeks. We've seen good performances across the board and downgrading the quality of the opposition is churlish in the extreme. Our injuries have been the downside of this period and yet again questions are being asked about our consistent list of casualties. But, it is what it is, we go forward with what we have available and one of those available is new boy Mesut Özil. In this league it has been proven that a mercurial individual can make a substantial difference over a season, Van Persie last season for Manchester United, Bale at Spurs and Suarez for Liverpool are recent examples so who knows what difference the quality that is Özil brings to the party.
Giroud and Ramsey have been getting rave reviews and credit where credits due, it is praise thoroughly deserved, Szczeny has looked more solid, despite the aberration on the opening day of the season, and similarly Koscielny has been excellent following the Villa game. Bendtner is making the right noises and I would say that competing in four tournaments requires all hands on deck and if Bendtner plays his part he's worth having on board.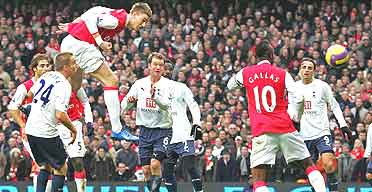 Winning is a good habit and we have won four out of five, scoring ten goals in the process, taking three points from a team that in all probability will be vying for a similar position in the league is always good and certainly silencing the braggadocio of the great pretenders is good fun.
The period between now and January will test our squad and put the manager under scrutiny perhaps more than ever before, but I get the sense that the players themselves now have a touch of the old Arsenal, a touch of the "we'll show 'em!" which was displayed against the happy shoppers of Seven Sisters. The Emirates faithfull also played their part and it's important that our home support are as enthused as our away support. Its a quid pro quo between the team and the fans and maybe, just maybe this is a time of synchronicity. Our backs are against the wall and the Arsenal we know and love often performs best under these circumstances. Let's see how we go.
Interesting times ahead methinks.